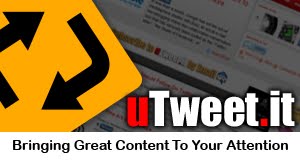 As some of you may know, I have been writing a weekly article for the startup online magazine, uTweet.it. For the sake of better exposure for both the magazine and my own articles, I'm going to start posting summaries of each article here. First, though, some information on the publication.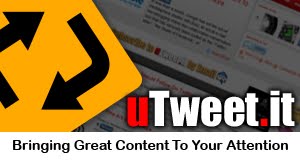 Conceived by Paul Clarke in late 2009, the online magazine, uTweet.it, serves as a portal for original staff articles and the most interesting popular content circulating the Twittersphere. The covered topics truly run the gamut, but they consistently pertain to the Twitter community and often deal directly with Twilebrities and other Twitter personalities. The staff includes:
I was invited to write with this awesome group about a month ago, and I've been putting out a weekly article (so far on technology) each Monday. Over the next couple weeks, I'll catch up on posting summaries of my contributions here and continue to release one each time my uTweet.it articles are released.
I hope you'll follow along and use the chance to check out my fantastic co-writers' work.
As always, email me directly for any questions or comments, comment and share to keep the discussion going, and subscribe via Email or by RSS if you like this blog!