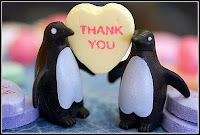 Being an actor, I find myself constantly very thankful to a LOT of people. There are people to do your hair, make-up, wardrobe, direct you, guide you, book you, drive you, etc. Here's how to keep the thank-you's fresh for yourself or for the people you deal with everyday.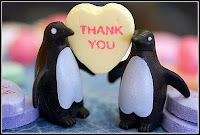 The third time I wanted to thank the same person in the same day, I was responding by text and desperately wanted not to say, "Thank you (so much/very much/a ton)," again. A quick rifling through the dark corners of my brain reminded me of the very old custom of offering blessings to those who helped you. This method is a little bit easier for typing, so it's ideal for thanking people via text, email, tweets, and blog comments. A few examples:
May your pen never run out of ink in the middle of a note.
May your breath never smell in the face of someone important.
May you always have enough light to see the path you tread.
May your coffee always be richly flavored and never lukewarm.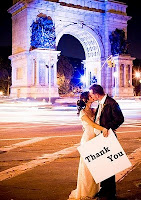 Blessings require a little more thought than the average thank. To jump-start your creativity, think first of these things:
What are you doing right now? Take stock of where you are and what you're doing. Ask yourself what has or could go wrong. Ask yourself what makes this moment great or pleasing.
What have you done recently? Sometimes the moment is quite boring. Backtrack steadily through your day, applying the first step to each situation until you find your interesting moment.
What do you know about the recipient? If the person you're thanking is a writer, lawyer, barista, etc., what situations do they regularly encounter? How can you address their interests?
Do you want humor or sincerity? Encouraging positive moments in the recipient's life imparts a deeper sincerity, while hoping that they avoid negative moments can often be humorous.
Your blessings can be as bizarre or as mundane as you wish. What matters is the intent – and knowing your audience. Experiment with this idea, and see what reactions you get. I use these regularly, and I can just about always count on a smile.
What blessings have you come up with? What other great ideas do you have for thanking people? Comment and share to keep the discussion going!
Photo credits: Thank you, courtesy of Dons
Wedding Bride Groom, courtesy of smoothdude